Children in Applied Behavior Analysis (ABA) therapy should be comfortable with their therapist. At Spectrum of Hope, we offer Spanish ABA therapy so you and your child can enjoy more productive and communicative sessions. Our bilingual therapists are board-certified professionals who assist your child's development through personalized therapies. We help your child feel at home throughout their treatment, whether they're fluent in Spanish and English or nonverbal.
Although one in four children with Autism Spectrum Disorder (ASD) grow up in a bilingual home, many therapists insist on monolingual treatment. As a bilingual ABA therapy center, we believe that caregivers can practice their native language while getting appropriate treatment. Our Spanish-speaking therapists can help your child learn and grow in your native language both in the comfort of their home or in one of our convenient locations.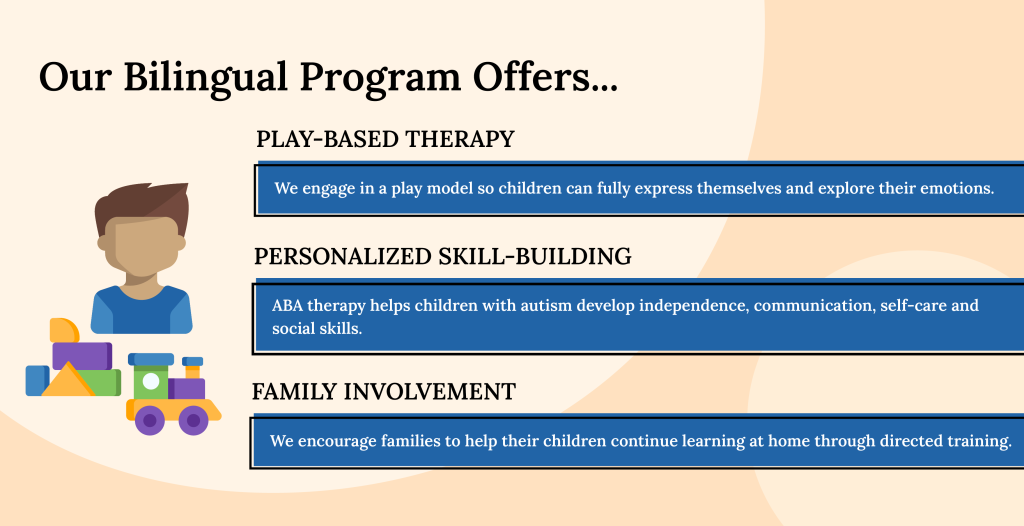 Spanish Language ABA Therapy Services
One of the most common challenges children with autism face is communication delays. Some parents are nervous that introducing more than one language at home can confuse their child as they learn to communicate. This assumption is not supported by empirical evidence — we have found that Spanish ABA therapy is an excellent way for kids to express themselves.
ABA therapy helps children learn by reinforcing positive behaviors and interrupting harmful habits. We work with children through our proven scientific model to be more confident in their thoughts and actions. By offering an additional layer of Spanish ABA therapy for kids, we can help them feel comfortable through the process.
Our Bilingual ABA program offers:
Play-based therapy: We engage in a play model so children can fully express themselves and explore their emotions.
Personalized skill-building: ABA therapy helps children with autism develop independence, communication, self-care and social skills.
Family involvement: We encourage families to help their children continue learning at home through directed training.
Benefits of Working With a Bilingual ABA Therapist
If you speak Spanish at home with your child, you can trust our bilingual therapists to nurture their native language. ABA therapy focuses on a personalized experience, so we do our best to accommodate all your child's needs. Many families choose our bilingual ABA therapy program for the following reasons:
At-home communication: We want every Spectrum of Hope family to feel welcome. Our bilingual therapy program makes it easier for your children to continue their development at home.
Cognitive benefits: Some studies have found that nurturing bilingual language abilities helps children with autism form nonverbal intelligence, adaptive functioning and a varied vocabulary.
Increased comfort: Children with autism may feel nervous or uncomfortable around strangers, so we eliminate as many barriers to communication as possible. Your child can enjoy more natural communication with our bilingual therapists.

Our Bilingual ABA Therapy Program for Kids in Texas
As experts in proven Applied Behavior Analysis therapy methods, we help children with autism thrive in their home environment. For many families, bilingual therapy encourages a more natural process for the children and the parents. When you begin a Spanish ABA therapy program, we can help your child nurture their communication skills with your native language.
To begin an ABA therapy program for your loved one with autism, contact us online or call 281-894-1423 today!