If you are interested in mental health and want a career that can positively impact people's lives, becoming a board-certified behavior analyst could be right for you. A career as a BCBA is fulfilling, since you're working to improve children's lives and help your community. BCBAs obtain the proper education, experience and licensure to make a difference in the community.
Continue reading to learn more about BCBAs, how you can become certified and what you can expect from working in the field.
What Is a BCBA?
A board-certified behavior analyst is someone with a certification in applied behavioral analysis. A BCBA uses systematic and scientific processes to help individuals with their behavior. A BCBA commonly works with children on the autism spectrum and their families to reach optimal outcomes.
A BCBA can also help with other developmental differences. As a BCBA, you can expect to work in behavioral therapy in schools, hospitals, clinics, classrooms, nonprofits and more.
What Certifications Are Necessary to Become a BCBA?
To become a BCBA, a person must first earn a bachelor's degree in a relevant field, usually psychology, education or applied behavioral analysis. Then, you will need to enter a graduate-level program for applied behavioral analysis.
Once you've completed the education to become a BCBA, work in pediatric therapy and finish your experience hours, you can take the BCBA exam through the Behavior Analyst Certification Board, which allows you to apply for your certification and licensure as a BCBA.
Before taking your exam, you must complete your coursework and experience, which usually consists of 1,500 supervised hours of independent fieldwork, 1,000 supervised hours or practicum or 750 hours of practicum. You must complete all relevant coursework at an accredited university to gain certification to become a BCBA and work in behavior therapy.
How Do the Certification Process and Exam Work?
Once you complete your coursework and experience, you can apply for the exam on the BACB's website. The application will ask you for specific information, such as proof of your coursework, experience and degree. You'll have to pay a small application fee. If you've met all the requirements, the BACB's board will approve you to take the exam.
The exam consists of 150 multiple-choice questions to measure your capabilities in analytical skills, such as measurement and experimental design. It will also test your client responsibilities, including intervention and assessment. The BACB's fifth edition task list will give you a better idea of what type of questions will be on the exam, so you can better prepare.
The exam uses a scaled score system. You need at least a 400 to pass, and the highest possible score is 500. You can also use practice materials to help you prepare for the exam and receive the best score possible.
If you pass, you can apply for a state license if your state requires licensure. You'll also have to work to maintain your certification, which we will discuss below.
How Do You Maintain Your BCBA Certification?
To continue work in pediatric behavior therapy and other fields, a BCBA must maintain certification. You'll need to apply for recertification every two years to continue to do your vital work, which means you'll need to keep up with crucial requirements before the recertification process.
Continuing education: You'll need to complete an additional 32 continuing education units every two years. Continuing education is essential for BCBAs to help them stay up to date within the industry. Of the 32 CEUs, you'll need to complete four in ethics and two in supervision. You can gain CEUs by attending events, participating in certification activities, teaching at events, instructing university courses or publishing work in a peer-reviewed journal.
Complying with ethics requirements: BCBAs must abide by the Ethics Code for Behavior Analysts and keep up with self-reporting requirements. BCBAs should thoroughly understand the ethics code requirements regarding professional conduct. BCBAs must also self-report any information that may affect their certification, such as updating personal information or reporting events that could pose a risk to someone else or conditions that could affect personal or professional conduct. Some of these can include violations of the ethics code, investigations, health conditions and substance use disorders.
Completing the recertification application: You'll want to resubmit your application before your current certification expires. You can follow the same process above and visit the BACB's website. Remember that there will be a small application fee!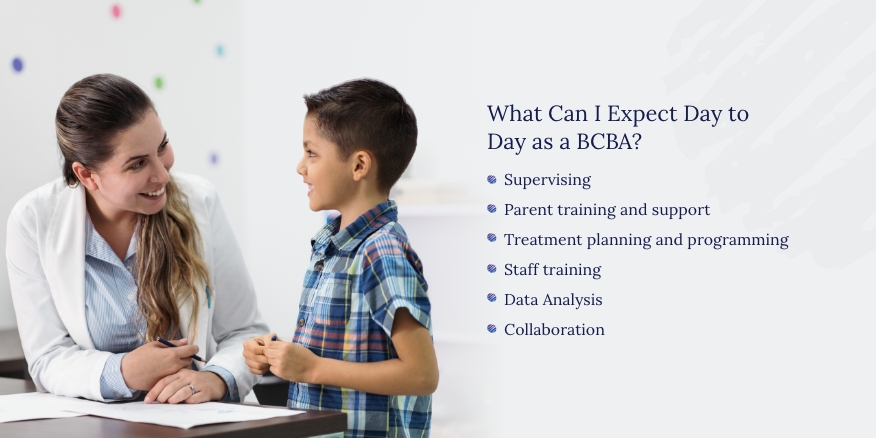 What Can I Expect Day to Day as a BCBA?
BCBAs work in different areas, so their day-to-day responsibilities may vary from person to person. While these professionals commonly work with children on the autism spectrum or those with developmental disabilities, they can also work in other areas to help people improve their behavior and function. Below are some general day-to-day responsibilities of a BCBA.
Supervising: BCBAs often monitor their clients' services, especially when they're working with children with autism. For instance, the BCBA might attend some of the client's ABA services to monitor whether they are effective and if the client is progressing in their treatment. A BCBA might give feedback or make recommendations about changes to services. You may also interact with the client or child to learn more about them or model different strategies.
Parent training and support: BCBAs often meet with parents or caregivers of the child receiving behavioral services. The BCBA will guide parents or caregivers to help the child reach their treatment goals, while identifying concerns they may have. The goal is to guide parents and caregivers to meet their child's needs.
Treatment planning and programming: A BCBA will create treatment plans or programs that specify the intervention the client or child will receive to help them reach their goals. A BCBA will continue monitoring these programs to ensure they progress.
Staff training: A BCBA may be responsible for providing staff training outside ABA services, such as covering general principles within ABA, discussing concerns or challenges and ensuring all staff is aware of the treatment plans and relevant information for the client's treatment.
Data analysis: Another part of a BCBA's responsibilities includes analyzing data, usually revolving around the client or child's response to their treatment. This data helps the BCBA determine if the client is making progress and if there are concerns.
Collaboration: BCBAs often collaborate with others to improve behavioral services. BCBAs might collaborate with teachers, doctors, day care providers and others responsible for a child's or client's care. The goal is to help clients reach their treatment goals while developing new skills to help them become more independent.
While BCBAs' days won't always be the same, the above are some general tasks you can expect to complete. Your specialization will also affect your daily responsibilities, such as whether you work with children or within an organization for behavioral management.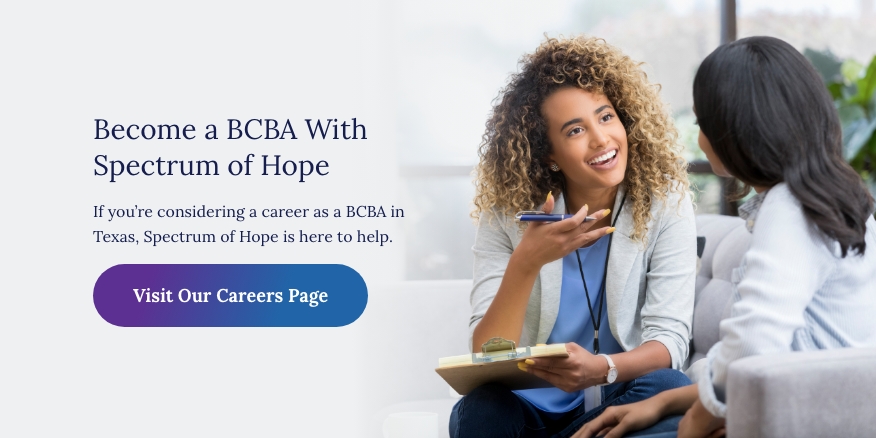 Become a BCBA With Spectrum of Hope
If you're considering a career as a BCBA in Texas, Spectrum of Hope is here to help. We provide behavioral therapies to loved ones with autism, aiming to provide care and compassion to all our clients. We hope to make a significant difference in our community by working together to change the lives of children and their families. We can help you with the technical aspects of the job and make you feel like a part of our team.
If you're looking for a place to make a difference, consider Spectrum of Hope and visit our careers page today to get started as a BCBA in Texas!