Autism Spectrum Disorder (ASD) is a developmental disability that primarily affects communication and social skills. Due to the range of ways autism affects development, several types and diagnoses of autism were once in use. Now, ASD is described as a spectrum that covers the scope and severity of symptoms previously considered to be different types of autism. While types of autism spectrum disorder with different names technically no longer exist, many people still use and identify with terms and diagnoses that previously represented autism "types."
This article covers the five different types of autism that were used to differentiate between developmental disorders related to autism. Exploring older classifications helps provide a better understanding of ASD and will assist you in approaching your child's ASD diagnosis in relation to its previous classification.
1. Kanner's Syndrome
Named for Leo Kanner, one of the researchers credited with writing one of the original reports on autism in 1943, Kanner's Syndrome is an outdated term for what we now call autism. At the time of the paper's publication, Kanner identified autism as "infantile autism," a disorder observed in infants and children that included socialization impairments and repetitive behavior, among other symptoms.
Kanner's Syndrome wasn't initially thought to be as common as we now know it is. Today, Kanner's Syndrome, now identified as autism or Autism Spectrum Disorder, occurs in an estimated 1 in 44 children. When autism was first added to the Diagnostic and Statistical Manual (DSM)-III, symptoms included:
Onset before 30 months old
Unusual speech patterns
Resistance to change
Severe deficits in language development
Pervasive lack of responsiveness to others
Peculiar attachments to objects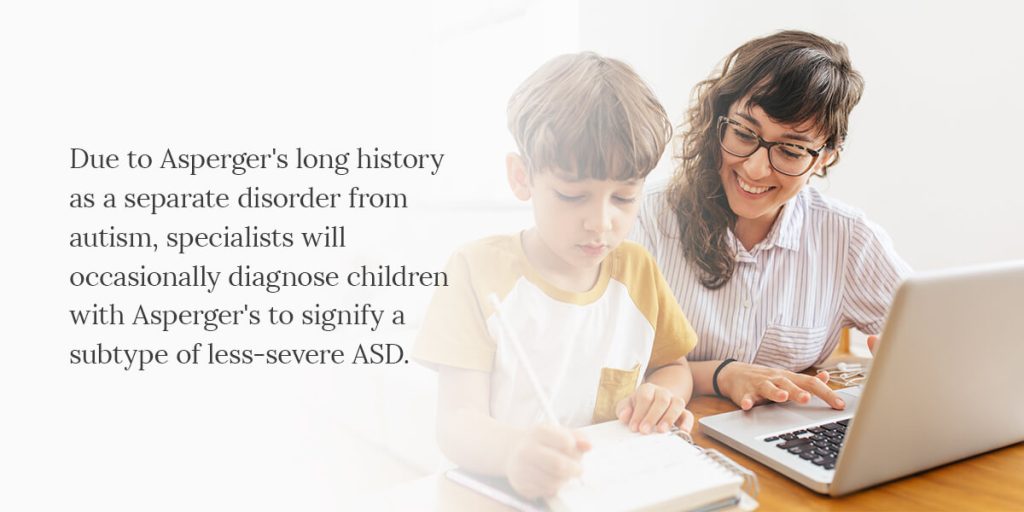 2. Asperger's Syndrome
Asperger's Syndrome is a developmental disorder that was previously recognized as a separate disorder from autism. With the publication of the DSM-V, Asperger's was reclassified into a broader category of ASD, along with several other developmental disorders. Due to Asperger's long history as a separate disorder from autism, specialists will occasionally diagnose children with Asperger's to signify a subtype of less-severe ASD.
Despite Asperger's removal from the DSM, many people still identify with the term, and it doesn't always present exactly as "standard" autism does. The relationship between Asperger's and autism is similar, but not always identical, and understanding that unique relationship can help improve a loved one's quality of life. Before its removal from the DSM-V, Asperger's shared symptoms and criteria with autism but also had signs separate from autism.
The criteria that differentiated Asperger's from autism included:
No requirement for onset before age 3
No requirement for an absence of a language delay
No diagnostic criteria in the communication domain
Criteria specifying the lack of a deficit in cognitive development
3. Rett Syndrome
Rett Syndrome is a neurodevelopmental disorder that almost exclusively affects girls. Children with Rett Syndrome often display similar symptoms to autism in early childhood, like loss of communication and social skills. However, since Rett Syndrome is primarily found in girls and presents many physical symptoms not found in ASD, it was removed from the DSM-V and is no longer considered a developmental disorder under the ASD umbrella.
Almost all cases of Rett Syndrome occur due to a mutation of the MECP2 gene. Mutations in other genes are also linked to Rett Syndrome, although they're much less common. Despite being a genetic disorder, less than 1% of recorded cases are inherited. Most cases come from spontaneous mutations, although families of loved ones with Rett Syndrome might have asymptomatic female carriers of the mutation.
There are four stages of Rhett Syndrome, but the stage speed and severity of symptoms are slightly different for everyone. A child with Rhett Syndrome will show signs of typical development at first but eventually display a slowing of development, loss of motor control, growth delays, muscle wasting and cognitive disabilities.
Along with a brief period of a loss of social and communication skills in early childhood, throughout its four stages, symptoms of Rett Syndrome may include:
Slowed head growth
Muscle weakness
Abnormal breathing patterns
Repetitive movements
Loss of purposeful hand skills
Abnormal walk
Seizures
Inability to speak or understand language
Scoliosis
4. Childhood Disintegrative Disorder (CDD)
Childhood Disintegrative Disorder (CDD) is another developmental disorder that was absorbed into the ASD umbrella with the publication of the DSM-5. Before its reclassification as an ASD, CDD was considered a rare, more severe form of autism. Childhood Disintegrative Disorder is uncommon, with a prevalence of 1.7 in 100,000 children.
CDD has many of the same symptoms as autism, including the regression of communication and developmental skills. The main difference is that CDD onset is relatively late compared to other ASD. Signs of CDD include a loss of:
Motor skills
Play skills
Bladder or bowel control
Self-care and social skills
Expressive and receptive language skills
Children with CDD may also present abnormal communication or social interaction and display repetitive interests or behaviors. The rate of epilepsy is higher in children with CDD than in children with autism, and kids with CDD are more likely to display fearfulness than children with autism.
5. Pervasive Development Disorder Not Otherwise Specified (PDD-NOS)
Persuasive Developmental Disorder Not Otherwise Specified (PDD-NOS), along with autism and Asperger's Syndrome, is one of the former three main types of autism. The difference between pervasive development disorder and autism before the DSM-V was an inability to meet all of the criteria for autism.
PDD-NOS was the "catch-all" diagnosis for anyone who didn't meet the DSM-IV standards and still displayed developmental delay symptoms and difficulties. PDD-NOS, along with CDD and Asperger's, was reclassified as ASD to ensure a more standardized diagnosis and criteria for loved ones with ASD so they could receive the best possible assistance.
The signs and symptoms of PDD-NOS included:
Problems with non-verbal and verbal communication
Difficulty with social interaction
Impaired social skills
Difficulty with changes in routine
Repetitive movements or behaviors
Unusual play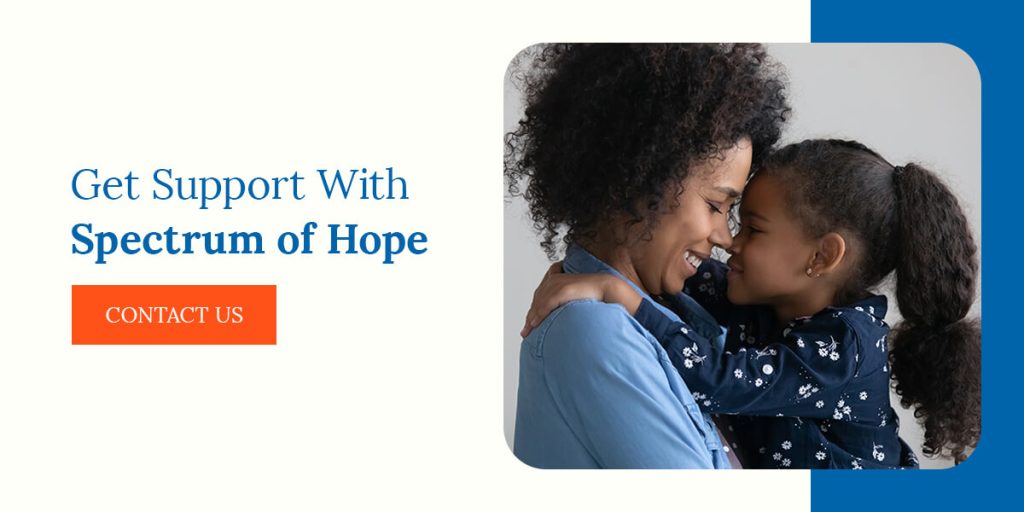 Get Support With Spectrum of Hope
With specialized treatments like applied behavior analysis, loved ones diagnosed with ASD can build the communication, social and behavioral skills necessary for developing a higher quality of life. Spectrum of Hope offers programs for early learners, adolescents and adults to ensure individuals receive expert, compassionate support. Our experienced staff will work with you and your loved one to develop an individualized treatment plan tailored to their unique needs and goals.
We have multiple locations in Texas and in-home therapy options to accommodate your loved one's individual needs. For comprehensive autism diagnostic services, in-clinic therapy, in-home therapy or any questions you may have, contact us today.