As a parent, you want the best for your child. Sometimes the best thing for your loved one is an assessment of their behaviors. At Spectrum of Hope, we understand that an autism spectrum disorder (ASD) evaluation can be a daunting process for many families. We provide child and adult ASD diagnostic services for individuals seeking help and, most of all, answers. Our diagnostic services are available to individuals seeking ABA therapy with Spectrum of Hope.
We offer autism diagnostic services for children as young as 18 months into adulthood. Many parents notice signs of ASD before their child is two years old, and our service assesses these indicators. With an autism diagnosis, your loved one can begin Applied Behavioral Analysis (ABA) therapy to enhance their behavioral skills and work on their areas for improvement.
Who Can Diagnose Autism in Texas?
Our team has many qualified individuals who can diagnose autism in Houston, Texas. Our board-certified behavior analysts (BCBA) approach every case with compassion and medical expertise. You can consult with any of our professional team members for an ASD diagnosis and learn more about the autism evaluation process.
Who Qualifies for an Autism Assessment?
Anyone can receive an autism spectrum disorder diagnosis at any point in their life, so we work with children from 18 months into adulthood. To begin your loved one's assessment, you will need a doctor's referral. Your pediatrician may refer your child after performing ASD screenings around 18 and 24 months.
To get started with our diagnostic services, please ensure you meet the following criteria:
Ready to begin the sign-up process for ABA therapy with Spectrum of Hope. You must be a patient to receive a diagnosis.
Meet the minimum age requirement of 18 months
Have a doctor's note referring you for ASD screenings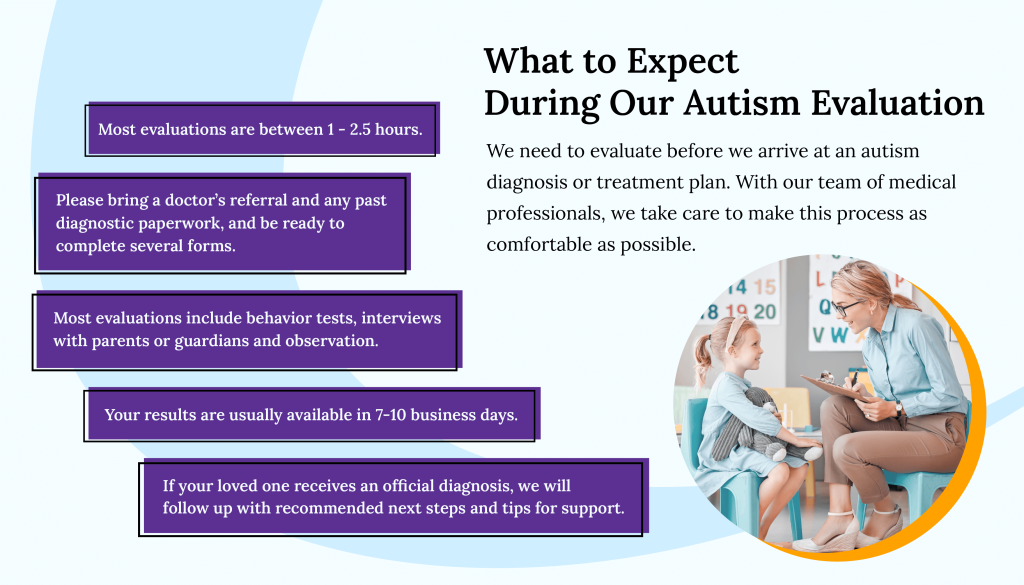 What to Expect During Our Autism Evaluation
A diagnosis of autism spectrum disorder can give your loved one the support, understanding and treatment they need. We need to evaluate before we arrive at an autism diagnosis or treatment plan. With our team of medical professionals, we take care to make this process as comfortable as possible.
Because of the nature of autism spectrum disorder, your loved one's evaluation will be unique to their needs and behaviors. Before you make an appointment, here's what you should know about your loved one's ASD evaluation.
1. How Long Is the Evaluation?
Our evaluations will range in length depending on the tests we use and your loved one's needs. Most appointments are between 1 and 2 1/2 hours.
2. What Should I Bring?
We require a doctor's referral for all patients, so we recommend bringing the note to your appointment. Children need to have at least one parent or guardian accompany them. The adult should be prepared to fill out several testing packets upon arrival or pick them up and fill them out prior. We also appreciate it when families bring past diagnostic work.
The same recommendations apply to adults receiving an ASD diagnosis evaluation. Please bring your paperwork and be prepared to complete several forms upon your arrival.
3. What Happens During the Assessment?
We recognize this is often the golden question that parents have. As with all other aspects of ASD therapy and diagnosis, your loved one's assessment will depend on their unique challenges and needs. We determine an autism spectrum disorder diagnosis through a series of tests, tools and monitoring.
Most evaluations include behavior tests, interviews with parents or guardians and observation. These elements help us understand how your loved one fits within each aspect of ASD diagnosis criteria. Aside from your screening needs, we make sure to approach each evaluation with compassion and tenderness.
4. When Do I Receive Results?
An ASD diagnosis in adults or children results from a thorough evaluation, so we take our time to give you a detailed and comprehensive report. Your results are usually available in 7-10 business days. Our admissions team will be in touch once the report is complete. If you or your loved one receives an ASD diagnosis, our team will help guide you through the next steps of our admissions process.
5. What Do I Do if My Loved One Receives an ASD Diagnosis?
Some parents are unsure how to process an autism diagnosis. If your loved one receives an official diagnosis, we will follow up with recommended next steps and tips for support. Because we provide ABA therapy services, we can help you get set up with a treatment program. Our diagnostic understanding of your loved one's needs can help us create the best plan for them.

Why Choose Spectrum of Hope for Autism Diagnosis?
At Spectrum of Hope, we provide autism diagnostic services rooted in sympathy and appreciation for your loved one's needs. We approach every evaluation with the understanding that this might be a big and intimidating step for your family. When you partner with our compassionate and experienced team, you get the answers you need with resources to continue into the next steps.
Here's why families across Houston, Texas, choose Spectrum of Hope:
Easy transition between services: Instead of redirecting your family to another center after a diagnosis, we provide in-house therapy.
Effective treatment strategies: Our BCBAs work to reduce harmful behaviors and improve communication, independence and learning skills. Children enjoy our ABA play-based therapy that encourages them to learn through exploration.
Regular self-assessment: We perform a self-evaluation every six months to assess our program's effectiveness with your loved one. We focus on solutions, so you and your family get what you need from our service.
Learn More About Our Autism Diagnosis in Houston, Texas
When your loved one receives an ASD diagnosis, it's important to remember that you're not alone. Our medical professionals can assist your post-diagnosis process with specialized treatment and a widespread support system. We are your local and committed resource for autism spectrum disorder care.
The Spectrum of Hope center provides autism diagnoses in Houston, Texas, for children older than 18 months and adults. If your loved one has ASD, we offer specialized and licensed treatment at our Houston, Cypress, Tomball, Magnolia, Klein, and Dallas locations.
Getting started with your ASD diagnostic evaluation is as simple as completing our intake form. If you have questions about our services or treatment, please call (281) 957-8874 to speak with a team member.