Applied Behavior Analysis (ABA) therapy is a patient-centric approach to treatment for autism spectrum disorder and a wide range of other developmental delays. This therapeutic strategy is based on working toward behavioral changes and skill development through positive reinforcement of repeated activities and responses.
Following a skills assessment and/or a behavioral assessment, the board-certified behavior analyst (BCBA) working with your family member will develop specific treatment goals that are personalized based on the unique needs of the individual, incorporating their strengths, preferences, and family input.
Common areas for treatment goals include:
Communication and language skills
Social skills
Play skills
Self-care skills
Reduction of inappropriate behaviors
Treatment goals are broken down into smaller steps and designed to build upon previous steps to achieve an overall goal. Progress toward these goals is monitored closely by the BCBA and measured against your family member's baseline to demonstrate their success and help continually adjust to address their changing needs.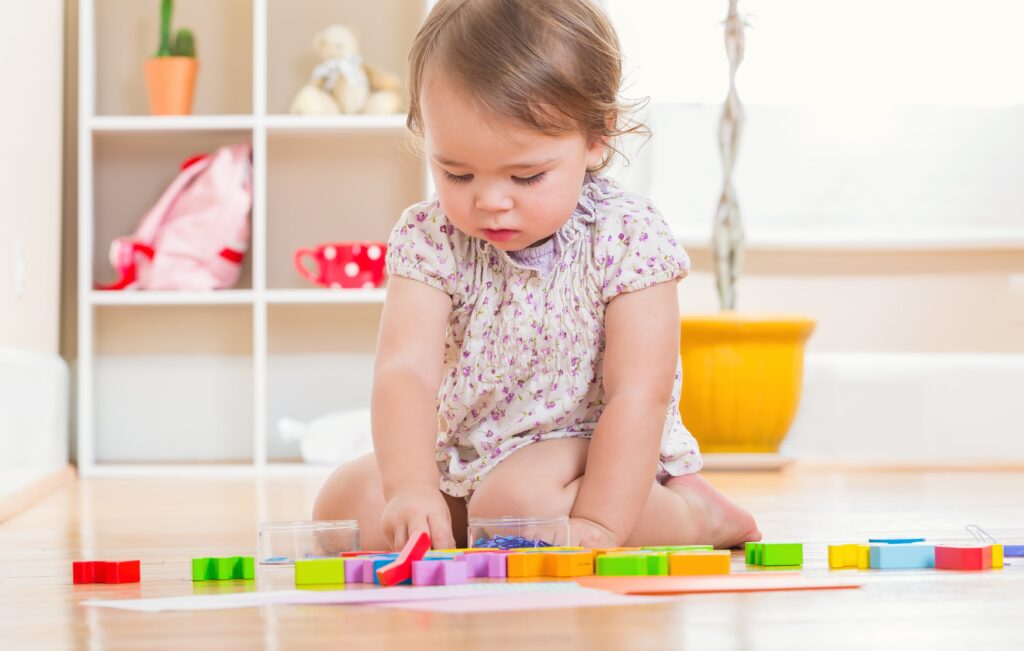 Examples of ABA Therapy Goals
After evaluating a person with autism's baseline skills and behaviors, our team of BCBAs will develop concrete, achievable goals for them to work toward through their ABA therapy sessions. These goals provide direction for treatment and allow us to collect data that makes their progress more measurable and data-driven.
Each goal is designed to build on previous achievements to help reach a broader overall goal. These gradual steps allow the person in treatment to build skills and change their behaviors over time, ensuring they have time to practice and make progress at their own pace.
As an example, a BCBA may suggest the goal of initially teaching an individual to make a request using one word and create subsequent goals building on their communication skills until they can ultimately carry on a conversation. Another example would be teaching an individual to attend to an activity for 30 seconds with the overall goal of ultimately engaging in a social activity with a peer for an extended duration of time.
As your loved one with autism progresses, their goals are adjusted to build on their new skills, allowing them to achieve even more. In the example above, your team could continue to increase the amount of time your loved one can engage with a peer or change the type of engagement to focus on different areas, like playing at a park while displaying safe behaviors — teaching your loved one to engage in an environment that requires additional skills.
Benefits of ABA Therapy for Autism
ABA therapy is considered the gold standard of autism treatment plans because of its long history of proven success and the wide range of benefits it offers. This evidence-based therapy style focuses on measurable progress and achievable goals that add up over time, helping to manage behaviors and develop critical skills.
The most obvious benefit of ABA therapy is that it allows a person with autism to achieve their full potential and function more comfortably in their everyday life. They'll work to develop their communication, social skills and self-care skills, making it easier for them to communicate their needs and interact with the world around them.
Improved independent living skills may also give a person with autism a new opportunity to become less dependent on caretakers. This can benefit the individual with autism and their caretakers.
Beyond the direct results of treatment, there are also benefits to ABA therapy as a program. ABA treatment plans are individualized to meet the unique needs of each person seeking treatment, so they get the care they need to focus on specific skills and behaviors affecting their lives. These therapy programs also focus on one-on-one therapy sessions that give your loved one with autism concentrated attention to help reach their goals.
At Spectrum of Hope, our ABA therapy plans also involve parents and caregivers, providing training that teaches you the basics of your loved one's therapy plan and how to understand their progress. You'll learn how to apply their therapy strategies outside of sessions to help your loved one thrive all the time, and you'll gain a better understanding of how to help them succeed.
Enroll for Custom ABA Therapy Plans
Spectrum of Hope provides top-quality ABA therapy treatment for patients from diagnosis through adulthood. Our team of expert BCBAs is dedicated to helping your loved one with autism learn critical skills and achieve their full potential. With five different locations and the option for in-home therapy, it's easy to enroll in a custom ABA therapy plan near you.
To learn more about our ABA autism treatment services, call us today at (281) 894-1423 or contact us online. You can also complete our online intake form to get a head start on the enrollment process.