What's it like to work as a registered behavior technician (RBT)? If you're looking to enter the field of behavior analysis, you might be curious about what a typical day on the job looks like. As with many professions in this field, you'll encounter different situations each day, but there are a few things that will remain consistent.
RBTs are supervised and guided by board-certified behavior analysts (BCBAs), professionals with formal training in Applied Behavior Analysis (ABA). If you're interested in a career as an RBT, learn more about the training to be a registered behavior technician in Texas and what your day-to-day responsibilities will be.
What Is the Day in the Life of an RBT?
Depending on the individuals you care for and the company you work for, your day-to-day duties will look a little different. Most RBTs undergo similar experiences, especially in the early weeks of job training.
First Few Weeks of Being a Registered Behavior Technician
Intensive training is something to expect as an RBT. If you want to enter this field, you'll need to fulfill certain requirements and qualifications, such as:
Be 18 years of age or older
Have a high school diploma
Pass background testing
Complete 40 hours of training
Pass the initial competency test
In your first few weeks on the job, you'll receive thorough training to prepare you for your daily duties and tasks. The main goal of training is to prepare you so you can provide compassionate and quality care to all your clients. These foundational skills will help you whether or not you have experience with ABA or working with children on the autism spectrum.
4 Training Components
As an RBT, there are four basic components to your training. You will use the skills you learn every day in your career as an RBT.
1. RBT Training
A 40-hour training course will be one aspect of your RBT training. You might take this as part of a course at a college or university, or take an online class to complete the required 40 hours of training at your own pace. These classes will help you improve your knowledge and understanding of ABA and prepare you for the certification exam.
The RBT exam includes 85 questions that will test your knowledge of the main principles outlined by the BACB task list for RBTs:
Measurement
Assessment
Skills acquisition
Behavior reduction
Documentation and reporting
Professional conduct and scope of practice
To take the exam, you'll need an RBT supervisor to verify they're willing to supervise you once you have a certificate to be an RBT.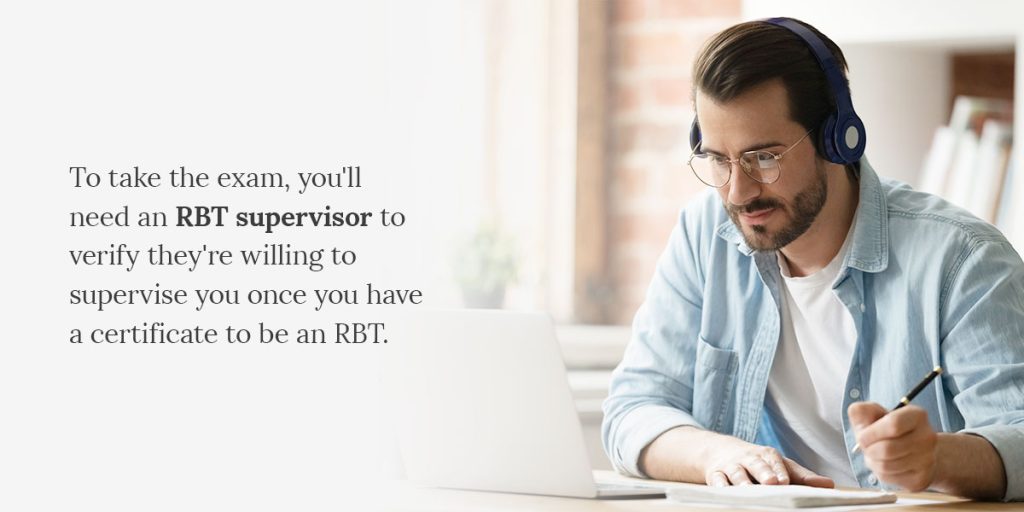 2. Administrative Training
Administrative work is also essential to your RBT training. While understanding ABA is essential to your job, RBTs do other various tasks you need to be prepared for. You'll study the behavioral technician (BT) training manual, the relevant ABA software, the RBT code of ethics and information relevant to your particular place of employment, like the employee handbook and policies. You can also receive training on how to interact with clients.
3. Clinical Training
To be an RBT, it's important to have strong clinical skills, particularly as it relates to working with children with autism. Once on the job, you can receive clinical training that includes instruction in:
Building relationships with clients
Using effective teaching strategies to create a fun learning environment
Analyzing and responding to challenging behaviors
Documenting progress with objective data collection
Collaborating with team members, center staff and families
4. Field Training
RBT training will include shadowing a current employee so you can get a feel for the daily job responsibilities and what role you'll play in the center. This field experience will include hands-on learning opportunities so you can apply the skills you learned in formal and clinical training. Once you've finished shadowing, you may still have direct supervision from your trainer.
What to Expect Day to Day as an RBT
As an RBT, there are a few things you can expect to encounter every day. Although you'll have a wide range of experiences on the job — both triumphant and challenging — you can expect the following in your day to day as an RBT:
Prepping for sessions with a client: Preparations for a session will include compiling all the relevant materials, in addition to reviewing data collections and upcoming session programs. You'll also gather the necessary materials, toys and other reinforcers so the session is prepared before the client arrives.
Following a daily session schedule: The BCBA will compile a daily schedule for every client, and it's essential to follow them. Each client's schedule will look a little different. These plans may look like games to a casual observer, but they're actually structured to build on the client's strengths and help motivate them to acquire new skills.
Having highly active days: No matter who you work with, your career as an RBT will include high-activity days. When working with younger children, you may experience even more high-energy days. As an RBT, it's important to prepare to work hard and be active during the day and be able to respond appropriately to challenging behaviors as they arise.
Working with other staff: Of course, you won't just be interacting with clients — you'll also need to work with other staff members and supervisors as an RBT. You may have daily check-ins with administrators, contact with other RBTs and even parents or guardians.
Handling challenging behaviors: Working with clients on the autism spectrum, you can experience challenging behaviors during sessions. Your training will help you learn how to handle and respond to these behaviors in a helpful way. Your qualities of compassion and patience will also help you approach these situations.
Following a client's treatment plan: Clinical programs are developed to respond to a client's individual needs. As such, it is within the RBT's ethical duty to follow these treatment plans to the letter.
Apply for a Position as an RBT in Texas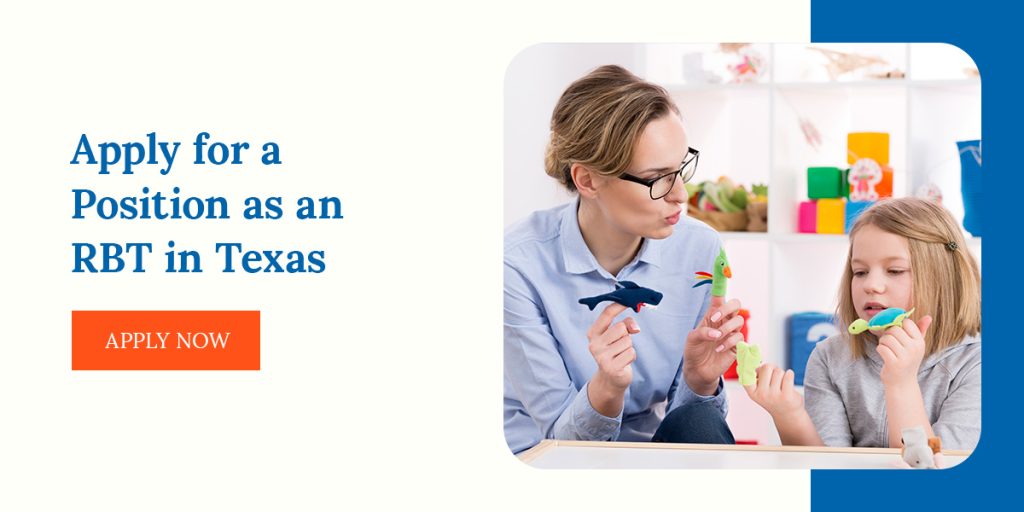 Get Support With Spectrum of Hope
With specialized treatments like applied behavior analysis, loved ones diagnosed with ASD can build the communication, social and behavioral skills necessary for developing a higher quality of life. Spectrum of Hope offers programs for early learners, adolescents and adults to ensure individuals receive expert, compassionate support. Our experienced staff will work with you and your loved one to develop an individualized treatment plan tailored to their unique needs and goals.
We have multiple locations in Texas and in-home therapy options to accommodate your loved one's individual needs. For comprehensive autism diagnostic services, in-clinic therapy, in-home therapy or any questions you may have, contact us today.